New York City Restaurants – Dish Buzz: Brasserie Cognac's Midtown Arrival
Posted Tuesday, April 29th, 2008 at 12:22 pm by Lara in Cultural Bees. More in 10019
I think Victor Hugo himself would have been proud of what Chef Florian Hugo is cooking up. Brasserie Cognac, the newest addition to the Manhattan's coterie of French restaurants, offers some of the best cuisine the city has to offer.
Coming in, there are a small handful of tables, where patrons this particular evening were enjoying the charcuterie, a beautifully assembled composite of meats, accompanied by a platter of cheeses. The consistency of the cheeses ranged from creamy to more solid.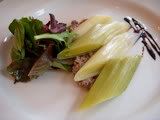 My friend and I both began with the poireaux vinaigrette – a fabulous flavorful appetizer of perfectly assembled braised leeks atop a bed of a shallot marmalade accented with walnuts and grain mustard. The presentation did not disappoint, and the balsamic drizzle seemed to bring out the slightly tart but complimentary flavor of the marmalade.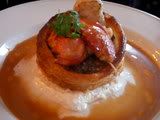 Main courses range from $18 for lighter fare to $35 for the grilled lobster, which is ceremonially flambéed tableside. I ordered the blanquette de veau (veal stew), which was a welcome change to the palate of this habitual poultry eater. It was light on broth, reasonable in portion-size, and the tender squares of veal were accompanied by a medley of thick chunks of carrots, celery, pearl onions, and a mound of basmati rice. Also delicious was the vol-au-vent: a beautiful flaky pastry shell stuffed with lobster and accented by scallops, all in the midst of a river of lobster sauce. The dish, which was formerly accented by sautéed foie gras, was perfect with the new side.
The manager was well spoken, stopping by to highlight the desserts that should not be missed. He explained there was more to come – a bakery will soon be opening on the front left with its own entrance. Starting at 7 am, it will serve fresh baguettes, chocolate croissants, and the like. Additionally, the center of the restaurant will feature an area devoted to a charcuterie and fromagerie (cheese station), where patrons can opt for a little Cognac on the go.
Even though the Manager had recommended the ile flotante, a dish of whipped egg whites, we opted instead for the profiteroles and the tarte tatin, an apple tart he appropriately characterized as big enough to share. Both came with subtly sweet vanilla ice cream. The tarte tatin is a perfect selection for those not too keen on the sweeter selections, whereas the profiteroles were strategically drizzled by chocolate syrup. For those less prone to opt for desserts, there is also a nice-sized selection of cheeses and cordials at your disposal.
This is one newcomer on the scene whose hype is justified. For those looking to see (or taste) for themselves, reservations are available on OpenTable. Look forward to seeing this one continue to improve, seeing things so well established and this only at the two-week mark.